A couple of decades ago I stumbledacross a book by Jo Verso called Picture It in Cross Stitch and was so taken by her designs and approach that I made a bespoke wedding sampler. Then I cross-stitched the family story behind Nonsuch at Hogsback. Three individual birth announcements in cross stitch followed over the next couple of years before I packed away the cross stitch fabric (hardanger) and my embroidery threads got used up for school projects.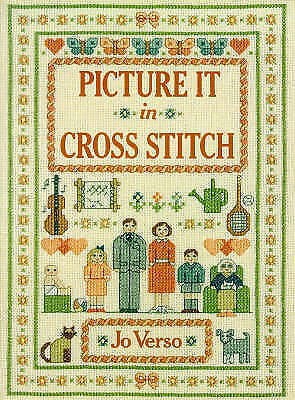 The book was first published in 1988 and my copy is a second impression from 1991. It is probably out of print, but I found advertisements for second hand copies on the internet.
The appeal of Jo Verso's book is that she encourages you to make your own designs and not to blindly follow a set pattern. Along with clear instructions, the book contains a pattern library to help you along. For instance, if you want to add a dog to the family line-up, there are examples to copy onto the graph paper of your own design. She advocates the use of the half stitch and this is enormously helpful for getting the ears of the dog to be nice and pointy.
The years passed and my interests shifted to quilting. Recently I rediscovered how pleasant it is to work in cross stitch when I coveted a biscornu which a friend had made as a fob, to tie onto her embroidery scissors. She kindly lent me the pattern and, before plucking up the courage to make those tiny cross stitches on evenweave linen, I practised on the larger blocks of the hardanger from my stash.
Despite these challenges, my interest in cross stitch was rekindled and the next project I tackled was a depiction of my favourite bird, the African hoopoe. Another kind friend had given me a pattern and I started stitching with great enthusiasm. This time there was also a problem with scale. Because the pattern was enlarged I stupidly thought the work would be the same size, until I started counting blocks and measuring. The thread count of my trusty stock of hardanger produced a small bird of 15 centimeters. Then, yet another generous friend gave me an unwanted tapestry kit and I am restitching the hoopoe on this larger grid. (I have ignored the original pattern of leaves that are painted onto the fabric of the kit and am stitching the hoopoe on the reverse side, using the same embroidery threads as for the little fellow, and following the cross stitch paper pattern. The different greens of tapestry thread that came with the kit will be used for the background.)
The completed hoopoe and the start of the larger version
I have another embroidery kit of a bowl of roses, which I found at a vintage stall at a market and could not resist buying. The fabric in the kit is fine evenweave linen and I knew it would be madness — or hours and hours of stitching time — to make it up. But still I could not resist buying it.
You must agree that this a beautiful bowl of roses and the stitching of it would be most pleasurable, had I "but world enough, and time", as Andrew Marvell's love-lorn young man wished when he tried to woo his coy mistress. So I decided to stitch just one of the roses and turn it into a pincushion.
The friends mentioned above have collections of beautifully embroidered pincushions which nestle together in a bowl. I would also like to start a collection of pincushions and plan to stitch the white rose from the kit on to black Irish linen. This is going to be a challenge, but if I can pull it off I think it will make a good companion for the red rose pincushion.
Finishing line
While we were at away last week I finished stitching a small tapestry, designed by Jennifer Pudney.
I found the kit for the tapestry amongst a stash of embroidery and tapestry threads that were given to me by a friend after her mother had passed away. I could not resist the delightful pattern and plan to frame it and give it to her as a momento of her mother.
Aren't I lucky to have such generous friends.